NSW cricketer, Hannah Darlington believes the ongoing RAP process will help address those opportunities that may currently not be available for indigenous Australians.
"As an indigenous cricketer and ACA member I've been lucky enough to come through the pathway and make it to the level I have, but know the opportunities that are missing for indigenous people," says Darlington.
"Being in this a part of the ACA RAP working group allows me to help with realistic and beneficial ways to engage and educate both Aboriginal and Torres Islander people and those who aren't."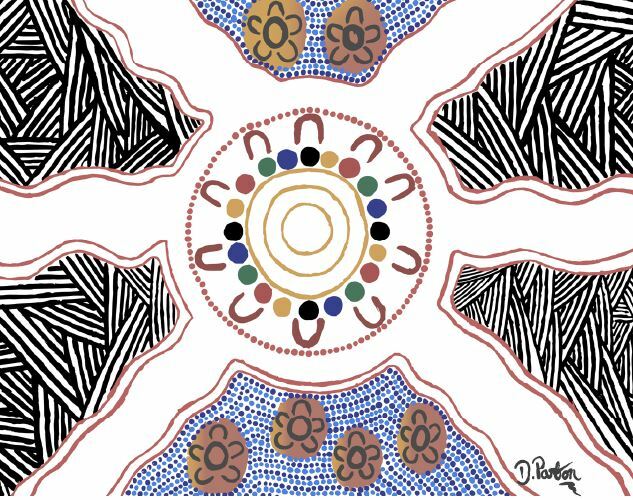 The ACA's RAP features an artwork titled "Together". Painted by 19-year-old Dimity Parton, a proud Wiradjuri & Yuwaalaraay woman from Dubbo, it represents everyone coming together as one tribe.
"The circle in the middle of the painting represents meeting places; where people become one and share our differences and experiences within life, says Parton. "The four sections with lines on the outside of the meeting place represents the scrub, the bush and our homes. The top and the bottom of the painting represents the different tribes within Australia.
Parton says the design was inspired by her own experiences within the cricket community how special it is for everyone to come together as one on the field.
"It is such a privilege that I can continue to display a beautiful part of my culture and pass my knowledge down to younger generations, so that my culture will always stand proud and strong. I am speechless that I can combine my two passions of art and cricket within this painting."
The ACA's RAP is a first step in creating a more inclusive environment for indigenous players and creating leaders across the cricket. This will ultimately strengthen the role that cricket can play in improving positive outcomes for indigenous peoples.
With this RAP, the ACA's commitment extends beyond what happens on the pitch. It stretches throughout the organisation so that indigenous people are supported whatever their contribution to the game.
True reconciliation starts with all of us.